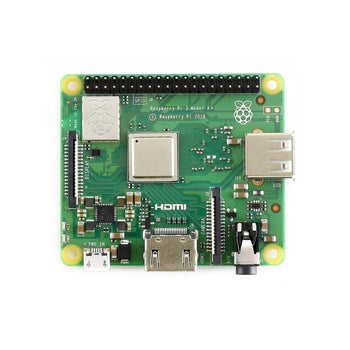 The new Raspberry Pi 3 A+, will you choose it?
| Wayne Chen
Raspberry Pi 3 Model A+ is a smaller, cheaper, lower-powered Pi 3. The latest Pi is ideal for projects that require the speed and processing power of the Pi 3, but do not require Ethernet, multiple USB ports and extra RAM.
Before the launch of the first Raspberry Pi, the Raspberry Pi Foundation said it plans to launch two product lines: Model A and Model B. Model B was launched in 2012 and Model A was launched a year later. Initially model A was just model B, with half of the RAM removed, one USB port and one Ethernet port, but the other parts were the same size and in the same form. The Model B+ was introduced in 2014, adding more GPIOs and two additional USB ports, followed by A+, which reduced the board size due to space removed by component removal.
The next one to be released is Pi 2 model b, and there is never a Pi 2 model a, because we jumped directly to Pi 3, until now, there is still no model a option. Now Pi 3 has got its "+" upgrade, the processor speed reaches 1.4GHz, and the thermal management of the motherboard has been greatly improved, it's time for the next-generation Model A to enter the game. The new A+ packs a 1.4GHz quad-core CPU, VideoCore IV GPU, 512MB RAM, dual-band WiFi (2.4 and 5GHz), Bluetooth 4 and BLE, full-sized HDMI, camera and display interface, as well as the same rugged support, are accepted for every Pi product, including full backward compatibility.
Model B or Model A?
If you choose between Pi 3 model B+ and model A+, which one to choose depends on your use case. If you want smaller, lighter, lower power and lower cost, take a look at A +. If you are buying your first pi and/or want to use it like a desktop computer, you might want B+ because it is the best versatile.
The original model A was very popular in the community, especially in small size and low power consumption. Its only drawback is low RAM (originally 256MB) and one USB port, and lack of wireless connectivity; however, 3A+ comes with WiFi and Bluetooth, so if your mouse and keyboard have only one USB dog (or they are Bluetooth), You don't need to insert anything else.The RAM is double what the original A+ had and 4x what the original A had.  Although it is not a full 1GB, you will find it a model B/B+, which is good enough for most purposes.
Model A or Pi Zero?
The Pi Zero was launched in 2015. With the release of Zero W, it has become even better, and wireless connectivity has increased the price. Unfortunately, the production of these products is directly funded by the Raspberry Pi Foundation, rather than the large international distribution partners that produce Raspberry Pi products, which limits the production and supply of the products. The production scale of the Model A+ will be large, and you can purchase it in bulk more easily.
In addition to product availability, if you choose between Pi 0 W and 3A+, it depends on whether you need additional processing power. They all have a wireless connection, but you need an adapter to plug Pi 0 into the monitor or connect to a USB device. If you only need to buy one, do not need a CPU or USB interface, HDMI and DSI ports, you can save some money with Pi 0 w. But if you think your project may benefit from a ~10 times faster speed, or you need USB interface , HDMI or USB interface, taking into account A+.
Analysis of the above points, for the new model A+, what projects did you use it on? Let me know in the comments